Jade Goody Unable to Explain Cancer to Sons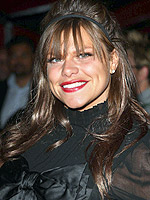 After learning that she has second-stage cervical cancer, Jade Goody is preparing for the next stage of her life, which include a hysterectomy this week, followed by chemotherapy and radiation. When the 27-year-old British television personality first learned how serious her diagnosis was, her thoughts immediately turned to sons Bobby Jack, 5 and Freddie, 3 ½. She wondered, "How on earth can I explain this to my babies?" Jade still has not been able to work up the courage to tell them — all they know is that "Mummy has a tummy ache." Her sons are what will help her through this battle, even though Jade knows that she has "to be realistic and face the possibility that I might not live to see them grow up." No matter what, she's not going to back down.
I am going to fight the damn thing every step of the way because I have two beautiful boys who are my world.
Upon hearing of the hysterectomy, Jade was extremely upset when she realized that she would not be able to have anymore biological children, especially as she has "always longed for a baby girl." However, then "it hit me that some women get cancer and will never become mums" and Jade "realized I should be so thankful for my gorgeous sons and decided I was going to take this horrible disease on — and win."
Bobby Jack and Freddie are Jade's sons with ex-boyfriend Jeff Brazier.
Source: The Sun; Photo by Lia Toby/WENN.