Donna Air Opens Up About Life as a Single Mother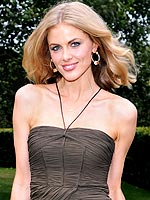 Nick Harvey/WireImage
British television presenter Donna Air is holding up just fine in the wake of her 2007 broken engagement to Damien Aspinal, and says that the two remain friends for the sake of their daughter, 5-year-old Freya. "As two parents we can only wish each other the best, don't you think?" Donna asks. "I'm sure we both want one another to be really happy. That's what Freya wants for her Mummy and Daddy, so how could we not want the same?"
You go from a certain family dynamic to adjusting to a completely new one. It took a few months for us all to find our feet. But I feel like I'm back in business now, and I'm managing pretty well as a single mum. I've proved to myself I can do it. You come out the other end and think, 'Wow, I'm pretty good at this!' And Freya … is happy –- that's the main thing.
That said, her daughter has "taken it upon herself" to find Donna a new special someone — which can at times be "very embarrassing," the 29-year-old says. "I'm like, 'But darling, that's so-and-so's Daddy and he's married.' She hasn't quite worked it out, bless her," Donna reveals. "She just thinks of people she likes and reckons they'd make a good boyfriend -– regardless of their family circumstances!" Donna, who would like to have more children someday, feels that motherhood "starts an amazing journey in a woman." "You don't obsess about yourself in the way you used to, as the bulk of your time isn't spent on you." Fortunately, spending so much time with Freya — whom Donna describes as a "lovely person" — is easy.
My daughter is the funniest person I know and I couldn't imagine my life without her. She's quite independent and tough and bossy, but then there are points in the day when I'm reminded she's just a little girl. Like when she looks back over her shoulder for her Mummy when I wave her off at school. Or just giving me a cuddle and saying, 'I love you Mummy.'
Source: The Mirror