Charlotte Church Loves Being a Homemaker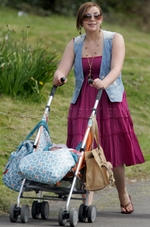 BARM/FAME
To hear Charlotte Church tell it, life is pretty idyllic at the moment. Mom to 11-month-old Ruby Megan and expecting another baby this winter with partner Gavin Henson, the 22-year-old songstress and television presenter spends her time doting on the people she loves at her seaside home in Cardiff, Wales. "I like to be able to cook for [Gavin], and have a nice, clean house when he comes home, and clean clothes," Charlotte says, "I'm not lazy when it comes to the baby and my house. I'm quite obsessive-compulsive about cleaning." Charlotte feels just as strongly about the prying eyes of the paparazzi, who might want to duck if they see her out and about with her brand new air gun.
If I'm out in the garden with Ruby, it really pisses me off. I hate thinking they can print photos of her. She has a right to anonymity. I don't want those f—ers getting money from her. So I might start picking them off. Only joking, I promise, Mr. Policeman. It wasn't me.
The couple are on equal footing when it comes to caring for their daughter. "I change the nappies and feed her," Charlotte says, "[Gavin] plays with her all the time." Charlotte's decision to stop breastfeeding when Ruby was six months old is something she says she does not regret. "That is the national guidelines and that's what I felt comfortable with, to be honest," she reveals, "It was nice to get my body back and to stop leaking, which was a little bit odd, really." For now, Charlotte says her future is bright and full of possibilities.
I've got an album to do, an opera to perform in, a novel to write, a degree to get — I love psychology, anthropology, ancient civilizations. I've got more babies to have, more animals to look after…Or maybe I should just be a stay-at-home mum. I don't know which path to go down. Or whether not to go down a path at all.
Source: Sydney Morning Herald