Brad Pitt: Twins Are Fine, Will Share Brood with George!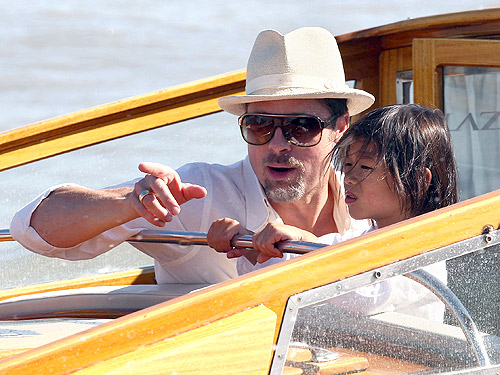 At the opening press conference of the Venice film festival this morning, reporters were filled with questions for the new father of twins, actor Brad Pitt. Fortunately for Brad, he had best buddy actor George Clooney at his side! With a reporter wanting to know how the two newest additions to the Jolie-Pitt clan — Knox Léon and Vivienne Marcheline — are doing and who they are beginning to look like, George stepped in and answered back that "the twins are fine."
As for when George, 47, plans to start a family of his own, he jokingly said that he was "so surprised to hear that question," and announced that he was actually "getting married and having children today." Whether children are in the future for George or not, Brad — who joked that he "will have two more by next year" — announced that he "will be sharing mine with him."
In addition to the twins, Brad and Angelina Jolie also have Maddox Chivan, 7, Pax Thien, 4 ½, Zahara Marley, 3 ½, and Shiloh Nouvel, 2.
Brad and George are at the film festival to promote their movie Burn After Reading. Click here to watch video of the press conference at Entertainment Tonight.
Source: Reuters; Photo by Reuters/Landov.