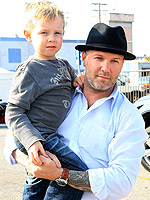 The Longshots director Fred Durst knows what it's like to not have a role model growing up, and wants to ensure that his children — Adriana, 17, and Dallas, 7 this week — know that they can turn to him. Limp Bizkit founder Fred, 38, admits that "I definitely broke the cycle with my children, one hundred percent," laughingly adding that "I think I'm going extremely the other way."
You know, sometimes to break the cycle I might overdo it a little bit, but I know how sensitive I was. [I know] how I just sometimes needed to be able to cry, or to be able to be someone who needed somebody to hug him or to understand him, or hear him out and listen to him. I never want to have my children to ever experience not having that.
Adriana's mom is Rachel Tergesen and Dallas' is Jennifer Thayer.
Source: PR; Photo by Katy Winn/Getty Images.