Twilight Turtle Got My Son to Say Goodnight and Turn Out the Light!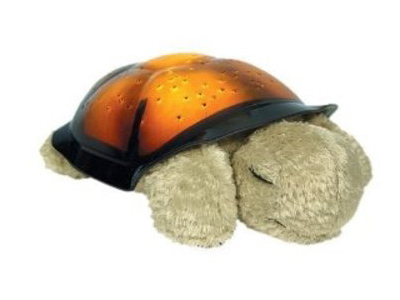 Cloudb Twilight Turtle
For the past year my son has insisted in leaving the light on whenhe goes to sleep at night. To try and get him to sleep without all thatexcess wattage we have tried a series of night-lights, glow in the darkstars and bedding, and a glowing pink orb pal that he named "Corey." Nodice.
Not until we got him his very own Twilight Turtle from Cloud b($34) has our son mustered the courage to face the darkness. Who canblame him? The night can be long and lonely with only a hall and closetlight to reassure your fears of a monster under the bed.
Fortunately he is convinced that the Twilight Turtle eats all monsters.This lightweight plush and plastic night-light casts constellations on the ceiling in your choice of three soothing colors of light. Blueand amber stars twinkle just long enough for my boy to fall asleep. Heespecially loves that it can be cuddled up close to him (no electriccords or wires) to provide maximum nighttime security.