Twilight Turtle Got My Son to Say Goodnight and Turn Out the Light!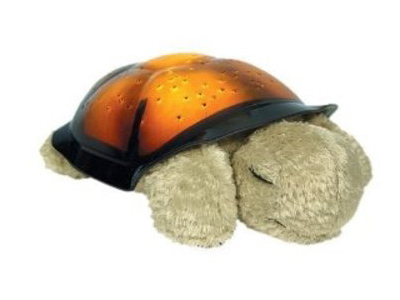 Cloudb Twilight Turtle
For the past year my son has insisted in leaving the lights on when he goes to sleep at night. To try and get him to sleep without all that excess wattage we have tried a series of night-lights, glow in the dark stars and bedding, and a glowing pink orb pal that he named "Corey." No dice.
Not until we got him his very own Twilight Turtle from Cloud b ($34) has our son mustered the courage to face the darkness. Who can blame him? The night can be long and lonely with only a hall and closet light to reassure your fears of a monster under the bed.
Fortunately he is convinced that the Twilight Turtle eats all monsters. This lightweight plush and plastic night-light casts constellations on the ceiling in your choice of three soothing colors of light. Blue and amber stars twinkle just long enough for my boy to fall asleep. He especially loves that it can be cuddled up close to him (no electric cords or wires) to provide maximum nighttime security.
Honestly, I did not think I would see the day he was willing to turn out the light at night, cheerfully and willingly. But he is so anxious to surround himself in Twilight Turtle stars that he begs to turn the light off before his story is even finished. Sometimes he takes it in the closet, and shuts the door. He likes to try and identify the constellations as shown in the booklet that accompanied the product.
We were advised by several pals to 'try the turtle' and I am so glad we did. I now just wish there was a travel size Twilight Turtle for use in hotel rooms!
Celebrity parents who have the Twilight Turtle for their tots include Jessica Alba and Tori Spelling (Stella has the Ladybug version, Liam has a turtle). Matthew McConaughey has the newly released special edition Twilight Sea Turtle that supports organizations that assist sea turtles.
— Ciaran