The Little Seed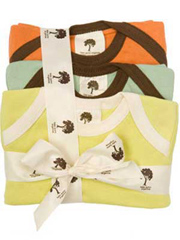 Kate Quinn 3-Pack of Onesies
The Little Seed
What: An eco-friendly store for green parents. Actress/mom Soleil Moon Frye is one of the store's founders.
Why We Love It: The store has a well-edited selection of some of the best organic baby products available.
Shop Here For: Furniture by Nursery Works, Netto and Cariboo. dwell baby bedding, natural wooden toys, and organic cotton clothing from Kate Quinn Organics, Under the Nile, Sage Creek, Fauna, and Speesees.
Our Favorites: Mary's Soft Dough ($8), Eco Tots Table Set ($260), Bambu Kids utensils ($8.50-18), Belle Baby Carrier ($95), IsaBooties Ballet Criss-Crossers ($30), Kate Quinn Organics 3-pack of lap neck onesies
($45).
Celeb Fans: Demi Moore, Jessica Alba, Melissa Joan Hart
CBB Deal: Save 10% with coupon code GREENBABY (expires 10/31/08).