Misty May-Treanor is Ready to Focus on Family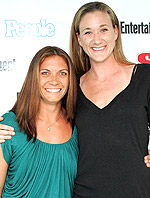 Misty May-Treanor and Kerri Walsh love their sport of beach volleyball, but the pair admit that after winning the Olympic Gold Medal in Beijing, China, that there's one thing left to accomplish — motherhood. Misty, 31, is the first to admit that "we both want to start a family," and that "we need to slow down and breathe a little bit, focus on our families." Even if Misty starts a family, she knows that she will return to the court again, because she would like to "have my kids see me play." She also hopes that Kerri, 30, will be alongside her, noting that, "I can't imagine playing beach volleyball without her."
Misty is married to Florida Marlins catcher Matt Treanor. Kerri is married to fellow pro volleyball player Casey Jennings. It was revealed this morning that on September 22nd, Misty will begin competition on Dancing With the Stars.
Source: LA Times; Photo by Barry Brecheisen/WireImage.