Thierry Henry Concerned with Possible Abduction Threat to his Daughter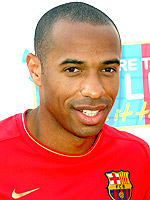 French football player Thierry Henry is dealing with one of the downsides of being in the public's eye — the risk to his family. The 31-year-old was informed of suspicious movements by two men in a red BMW outside the home of his ex-wife, model Nicole Merry, and their three-year-old daughter Téa in London. Nicole and Téa's home is guarded by a security company, who contacted the police after the suspicious men were spotted. They learned that the vehicle was registered to an individual with a lengthy criminal record, suggesting a possible kidnapping plot.
A spokesperson for the family stated that "the couple want maximum security for their daughter because she means everything to them," adding that "they have begun efforts to increase surveillance around the house."
Source: Goal; Photo by Joe Corrigan/Getty Images.