Ani DiFranco Says Daughter Gives Her Energy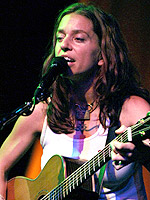 Fans of Ani DiFranco know that her self-imposed maternity leave following the birth of daughter Petah Lucia, 20 months, represented an exceedingly rare break from touring for the 37-year-old singer and songwriter. Now that she's back out on the road, Ani admits that having a baby really does change everything, but only for the better. "My songs have slowed down a little bit, my new record is taking longer because of her, but I say all of this happily," Ani says, "While I can't maybe produce as much music while I'm caring for her, she doesn't just take my energy. ..She gives it all back."
The seven months she spent at home with Petah was something Ani admits she feared at first, telling Pop Matters she thought she "would go totally stir crazy" and lose her "whole sense of identity." In the end, however, Ani says she couldn't have been more wrong. "Truthfully, I didn't," Ani says, "I'm in love." Having a daughter has motivated Ani to engage in some serious introspection and deal with the "girl baggage" she so often sings about.
I cannot pass this self-loathing on. It makes me want to turn inward, like wow, I'd better check myself and get my heart right. And not all this stupid stuff I've been trying to unlearn for all these years.
Petah is the first child for Ani and her partner, music producer Mike Napolitano.
Source: Pop Matters; Photo by Tim Mosenfelder/Getty Images.