Mario Lopez and Eva Longoria Parker Laugh Over Baby Rumors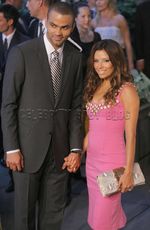 Though pregnancy talk endlessly swirls around Eva Longoria Parker — is she or isn't she? — the actress, married to NBA star Tony Parker, takes the whispers in stride with a little help from close friends like Mario Lopez. Of the ever-present baby bump rumors, he recently told PEOPLE,
We get a laugh out of it. She's really cool. She just takes everything as it comes. She doesn't [read about herself], but I think people tell her — andshe gets a kick out of it. She's very calm and verysecure. She knows people are always going to [talk]. That stuff doesn'tbother her.
Source: People.com; Photo by Photo by Randy Brooke/WireImage.com.