Javier Vázquez Talks About Daughter's Diabetes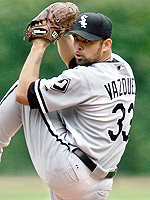 The Children's Memorial Hospital in Chicago recently celebrated its inaugural K's for Kids Gala with some sizable star power in attendance, including many members of the Chicago White Sox. Named in honor of Kamila Vazquez, the 5-year-old daughter of All Star pitcher Javier Vázquez and his wife Kamille, K's for Kids hopes to raise funds that will benefit diabetes research. Kamila was diagnosed with Type 1 diabetes at the age of 2, and her parents were spurred into action.
Natalia Ferrer, executive director of the Javier Vázquez Foundation, says that Javier's life changed when he first learned that Kamila has the disorder. "He understands that there are a lot of children that suffer from the same condition that aren't as lucky as her," Natalia says. Javier, 32, says that "the continuous monitoring of what [Kamila] eats and her blood levels is an incredible job." He adds,
We rarely let her out of our sight.
K's for Kids, held August 4, drew more than 200 attendees and raised $110,000 for the cause. "I think that I'm helping a little bit in finding a cure," Javier says.
In addition to Kamila, Kamille and Javier are parents to a son, Javier Josué.
Source: The Windy Citizen; Photo by Jonathan Daniel/Getty Images.