The Little Mermaid: Ariel's Beginning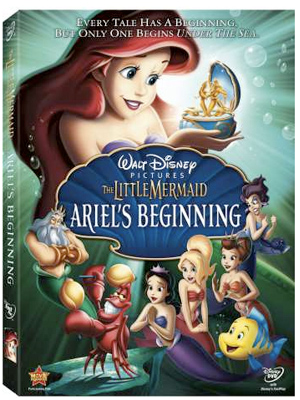 While I'm sure Anya would be satisified watching the same DVD or TVepisode over and over and over, I have my limit so I'm always lookingfor sequels or new episodes of her favorite characters. The new LittleMermaid straight-to-DVD fits this need to a tee!
Since her life as a mermaid "under the sea" is more presumablyinteresting than another princess story, the follow-up to the originalLittle Mermaid movie is actually a prequel- The Little Mermaid: Ariel's Beginning is the story of a younger Ariel in a time when music was banned fromAtlantica. Torn between family duty and her love of music, KingTriton's youngest daughter must make the most difficult choice of herlife. With the help of her yin and yang sidekicks, Sebastian andFlounder, and her six sisters, will she be able to restore music,friendship and love to the kingdom? If you've seen the original LittleMermaid, I think you know the answer. There are four new songs plus theactors who voiced the original Ariel and Sebastian reprise their roles.
Click here to see what Danielle did and didn't like about the DVD.