Hollywood's Hottest Moms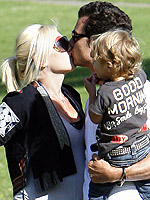 It's been a big year for celebrity babies, with everyone from Angelina and Jennifer Lopez to Halle Berry and Christina Aguilera giving birth in the past 12 months. InStyle.com has put together a gallery celebrating the biggest births of the year — click here to check out the cute pictures and fun family stories!
Photo by Pacific Coast News.