Vin Diesel Wants Quite the Brood!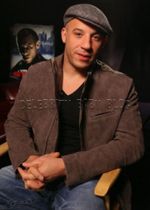 The 4 ½-month-old daughter he has with girlfriend Paloma Jimenez is just the start of what Vin Diesel hopes will grow to be a family of Jolie-Pitt proportions, he tells OK! "I want a half a dozen…What do you expect from me? I want 12 kids!," Vin says. The little girl — whose name has not been revealed — makes Vin "want to be a better person," he says. The 41-year-old actor says that he "of course" changes diapers, and credits his family-friendly film The Pacifier for kick-starting his biological clock. "That's how the whole damn thing started," Vin says, "You work with those babies too long, and then I said, 'It is time.'"
Source: OK!; Photo by Getty Images.