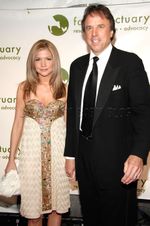 Life with a pregnant woman — his wife, actress Susan Yeagley — was so eye-opening for comedian Kevin Nealon, it inspired him to pen the humorous book Yes, You're Pregnant, But What About Me?. At 54, with 19 months of experience to draw from as dad to the couple's son Gable Ness, Kevin has even more wisdom to share with first-time fathers. In a recent interview with the OC Register Kevin advises them to "get used to multitasking and get used to things being left undone and a bunch of things on the floor." He adds,
When you first start, you pick up all of the toys and pacifiers, but I'm in a stage now where I just kick them out of the way.
Being an "older" parent can present some unique challenges, the Weeds star jokes. For those dads, he suggests "make sure that you are stretching so that your back doesn't go out, because you're lifting a kid all the time." "It's hard for me to sneak into the nursery while [Gable] is sleeping, because when I walk all of my joints and tendons are popping," Kevin says, "It sounds like I'm walking on bubble wrap."
Source: OC Register; Photo by Gary Gershoff/WireImage.com