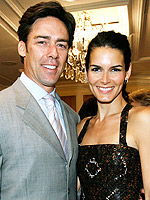 Confirming numerous rumors, actress Angie Harmon and her husband, former NFL star Jason Sehorn, have announced that they are expecting their third child. Jason, 37, denied the news last week, but a rep explains that was done "in an attempt to take back the right to release thejoyous news themselves."
Angie, 36, and Jason are now "thrilled to announce" the pregnancy — the baby is due this winter. The new addition will join big sisters Finley Faith, 4 ½, and Avery Grace, 3, at home. The couple is excited about the spacing of this baby as compared to their last!
We had [the girls] and they were only 20 months apart. That's too close. We were deep in diapers for about a yearof just solid two diapers. I was like, 'enough.'
Source: Us Weekly; People; Photo by Donato Sardella/WireImage.