Triple H to Pay for His Past Thanks to Daughters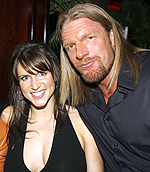 Now that wrestler Paul "Triple H" Levesque is a father of two girls — daughters Aurora Rose and Murphy Claire are two years and three weeks old, respectively — the World Wrestling Entertainment superstar admits that he's a changed man. He reveals, "[Parenthood has] put a whole new spin on life for me. It's changed my perspective about what's important … I don'tknow if it's softened me up, but it changes the way you look at women. I'm probably going to pay for my past!"
Triple H was recently traded from the Raw to Smackdown brand of the WWE, which some reported would be better for his schedule, but the 39-year-old disagrees. "It's actually worse for me," explaining that "it really screws me personally, but we'll make it work."
You know when you get into this line of work you're going to be gone a lot. It's really important that the time I get to spend with my family is quality time.
Triple H is married to Stephanie McMahon-Levesque, 31, WWE's Executive Vice President of Talent and Creative Writing.
Source: Ottawa Sun; Photo by Frazer Harrison/Getty Images.