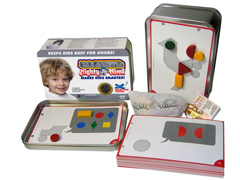 Magnetic MightyMind
Fat Brain Toys
What: A place to find toys that teach but aren't even remotely dull. Detailed descriptions of each toy and the best age group for it means you won't over challenge anyone.
Why We Love It: A huge, huge, huge selection of engaging, educational toys organizedinto very specific categories including gardening, bugs, space, sports, fire and rescue,science and a lot more. Need help shopping for someone else's child? Use The Gift Wizard—answer a few questions and he'll come up with suggestions.
Shop Here For: Dado Squares, Erector Sets, Spy Toys, games and puzzles your child won't lose interest in 10-minutes later. They also have a Special Needs Advisory Panel that recommends games and toys on the site best suited for different special needs.
Our Favorites: Magnetic MightyMind ($19.95) is a must-have on an airplane, even more so at home. With patterns ages 3-8 will be challenged by (and can master), this magnetic shape building kit is definitely as entertaining as anything that beeps and blinks. Put the template on them metal block and kids have to figure out which magnetic shapes they need to fill it in. HaPe's Quadrilla Twist Set ($149.95) is certain to thrill kid and adult alike. We also love Babalu's Felt Tales story/play boards ($11-16.95).