Real World Alum Beth Stolarczyk's Pregnancy Forces Wedding Adjustments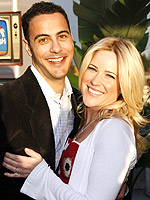 In explaining why she walked down the aisle six months pregnant, Beth Stolarczyk admits that she has "always done things a little controversial." The Real World season two cast member, 39, "was not expecting to be pregnant on my wedding day" and had already purchased a Carolina Herrera gown prior to learning that she was going to be a mom. With alterations by R-Mine Bridal Couture to adjust the dress to her new form, Beth wed real estate developer Matt Ciriello as planned on Saturday, August 9th in Santa Monica.
In addition to the dress, signs of pregnancy made it into the footwear as well — Beth initially chose to wear white Havana flip flops due to swelling in her feet! In the end, she decided to go barefoot for the beach wedding, attended by 175 guests (plus one baby girl on the way!). Beth tells Us Weekly, "I have never been happier in my life. We are over the moon."
Beth and Matt, 32, expect their daughter in early December.
Click here to see Beth in her wedding dress!
Source: US Magazine; Photo by Jean Baptiste Lacroix/WireImage.