Penélope Cruz Says She "For Sure" Wants To Have Kids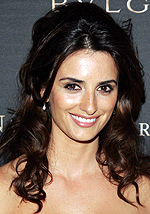 Playing a mom on-screen is something Penélope Cruz says she "loved," and the 34-year-old actress admits she "wants to have babies" herself — someday. "I don't feel it's the moment now, but for sure I want to be a mother," she tells Parade. The maternal instinct is something Penelope feels she already has.
I have a tendency to become a mother of everyone around me. My family, my brother, my sister, they're always complaining that I'm too protective and I've always been like that.
Though she refuses to discuss her private life with reporters, Penélope is believed to be dating her Vicky Cristina Barcelona co-star Javier Bardem. While Penélope may see children in her future, from the sound of things, the same cannot be said for a wedding. "I don't know if I believe in marriage," she says, "I believe in family, in love, in children."
Source: Parade; Photo by Getty Images.