Gabrielle Reece Finds the Humor in Her Hectic Life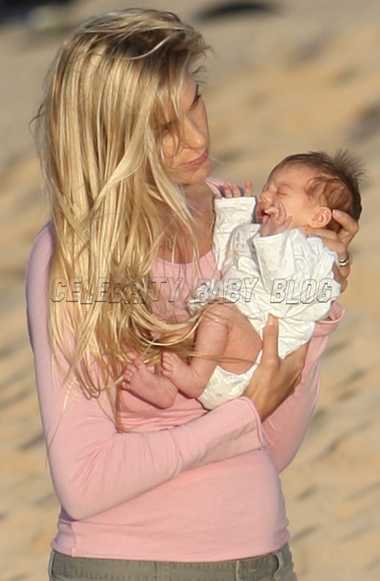 Sometimes all a parent can do is shake their head and laugh when things are a little hectic — something that volleyball player Gabrielle Reece knows all about! Recently, shewas trying to make dinner while her 7-month-old daughter Brody Jo was sleeping in the living room and her 4 ½-year-old daughter Reece Viola was being "a complete loon." When Reece acts out, Gabby explains that she has the "fantastic knack to unravel the entire household." After Reece's fit was over and "tears were dried and things were settling back to normal," Gabby, 38, was trying her hardest to get dinner on the table before Brody woke up. It was almost a success until she "heard a multiple crash sound" and "the crying of an interrupted sleep." As Gabby looked over her shoulder, she saw that "my four year old had spilled about 300 colored plastic discs we use on a chart that she keeps track of her 'behavior.'"
At that point, Gabrielle glanced towards her husband, surfer Laird Hamilton, who "looked cross-eyed, and almost with a glimmer of 'Can I make it out the front door and no one notice?' look." All that was left for the fitness guru to do is take it all in and "then decide to laugh." Gabrielle credits her thirty minutes of exercise earlier that day for being able to find the "brilliant humor" in the situation. Otherwise, she admits that she would be "running around threatening to dole out punishments, and spankings. Or better yet just gone into the bathroom and done the 20 second cry-and-reload." Her hectic life leaves her with a tip for mothers everywhere:
Life is funny, but it also can be stressful. Just a friendly reminder to do whatever you can to deal with it easier. Take care of yourself so you can handle taking care of everything, and everyone, else.
Source: Go To Gabby; Photo by Splash News.