Ricky Ponting Enjoying Time at Home With Daughter Emmy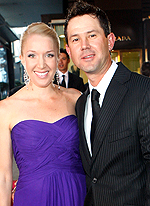 While she made her entrance to the world four weeks earlier than expected, Emmy Charlotte Ponting's timing couldn't have been better, says her proud new dad Ricky Ponting. The 2-week-old baby's arrival occurred as Ricky, 33 — captain of the Australian Cricket Team — was at home recuperating from surgery, and several weeks prior to professional commitments which will take him abroad again.
Ricky's wife Rianna says the couple "just feel so blessed to have a whole month together before he has to go away." The looming absence is still on Ricky's mind, however, for he tells the Herald-Sun "it's going to get hard if and when I have to leave."
Click here for a picture of Ricky, Rianna and baby Emmy!
Source: News Herald; Photo by Snapper Media / Splash News.
Thanks to CBB reader Freya.