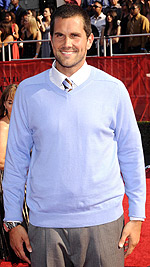 In a new interview with the New York Times, Matt Leinart — the 25-year-old quarterback for the Arizona Cardinals — talks about his struggle to keep the spotlight on football and not his private life, which has been the subject of much gossip during his two years in the NFL. That said, in the story an "openly proud" Matt couldn't help but give a quick update on his 21-month-old son Cole Cameron Leinart. Says Matt,
He's running all over, talking and everything. I miss him.
Cole's mom is Matt's ex-girlfriend Brynn Cameron.
Source: The New York Times;Photo by Ramey.