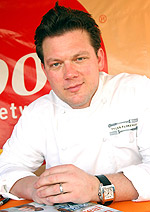 Food Network's Tyler Florence and his wife Tolan Clark Florence welcomed daughter Dorothy Tyler Florence on Friday, August 8th at 8:08 am. She weighed 9 lbs and was 19 inches long. Dorothy is the second child for the couple; son Hayden is 14 months. Tyler, 37, is also dad to son Miles, 12, from a previous relationship.
Tolan announced on her Facebook page that Dorothy "is perfect." To view a photo of Dorothy, click here.
Source: Food Network Addict; Photo by Gustavo Caballero/Getty Images.
Thanks to CBB reader Steph.