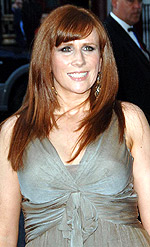 A bout with postpartum depression following the birth by C-section of her first child, 5-year-old Erin, has left comedian and actress Catherine Tate, 40, hesitant to have another baby. She reportedly tells Now magazine that "I hope it won't stop me [having another child], but it does worry me." Still, Catherine suspects that she and partner Twig Clark will eventually pursue parenthood a second time. Says Catherine,
I want one because I wouldn't like Erin to be an only child.
Catherine most recently appeared on the UK television series Dr. Who.
Source: Bounty News via Now; Photo by Z. Tomaszewski/WENN.