Michael Damian Says He, Wife Are "Always Open" To Kids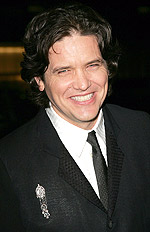 Former Young and the Restless star Michael Damian — who shot to fame in 1989 with the hit song 'Rock On' — credits "time and effort" for his 10-year marriage to wife Janeen. The couple have no children, but Michael hasn't ruled it out for the future, telling OK! "we're always open." He adds,
Right now the last few years have been so difficult. We've been working so hard on getting our film company together that we wouldn't have had time to do it, and we want to do it right. We just sort of have to see what unfolds. God-willing, we'll see how it happens and if it does.
Moondance Alexander, for which Michael wrote the screenplay, is currently out on DVD.
Source: OK!; Photo by INF.