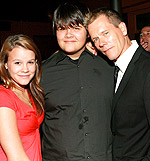 Life has many different lessons that it can teach a person, but Kevin Bacon wants to make sure that kids Travis, 19, and Sosie Ruth, 16, learn "that there are many different kinds of success." To the actor, the most important life lesson is that "If you are a compassionate human being who can relate to a lot of different kinds of people and cares about the world outside of [your] own sphere, then that's a tremendous success." Kevin believes in that so much that he doesn't care what his and wife Kyra Sedgwick's kids do for a living as long as they are happy.
Our kids could go off and be actors or singers or work at McDonald's for the rest of their lives if I felt they were truly happy.
Kevin, 50, and Kyra, 42, have been married since September 4, 1988.
Source: Redbook Magazine; Photo by Evan Agostini/Getty Images.