Guy Pearce Sees No Children in his Future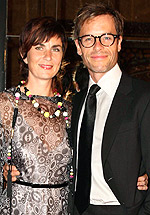 There is little ambiguity in Guy Pearce's stance on whether he and wife Kate Mestitz, a psychologist, will someday be parents; according to the UK's Times Online, the couple "refuse" to have kids. The 40-year-old actor, who has starred in hits like LA Confidential and Factory Girl, jokes that he and Kate "would be on the news if we had kids" because "we'd do something horrible to them or leave them somewhere." Putting all joking aside, Guy clarified his comments, adding,
I just mean that, well, I couldn't give them the constant love that they need.
Guy and Kate were married in 1997.
Source: Times Online; Photo by Picture Media/INF.