Diaper Bag Doubletake: Can You Identify the Marc Jacobs Bag?
When I showed this diaper bag to Angela last week, she said, "It reminds me of that Marc Jacobs diaper bag!" She pointed out how the straps have similar quilted padding. Can you tell which one is the designer bag and which one is inspired by it? (Click Continue Reading for the answer.) And more importantly, which do you prefer?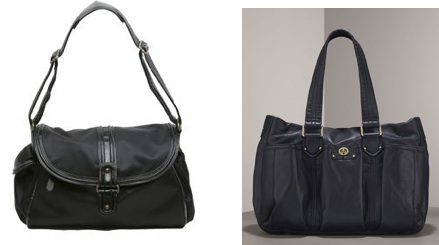 The first bag is Kale's Cameron Diaper Bag. The second is the MARC by Marc Jacobs Totally Turnlock Baby Bag.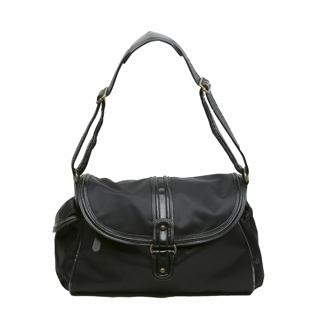 The Cameron bag is nothing to sneeze at though — Kale is a luxury handbag line favored by the rich and fabulous. This bag is a baby-friendly version of their Cameron Flap bag, which will cost you as much as a Marc Jacobs bag. The baby bag version is made of nylon and PVC (what, they didn't get the memo about PVC?), with many pockets, both inside and out. Like all diaper bags, it comes with a changing pad, plus a detachable zippered pouch for dirty clothes or diapers. It also comes in shiny pewter (which Jennifer Lopez has). At $175, it certainly isn't a bargain, but it's certainly an option for a mom who wants a designer look without having to worry about ruining her good handbag. To order, email info@kalehandbags.com or call 213.627.1743.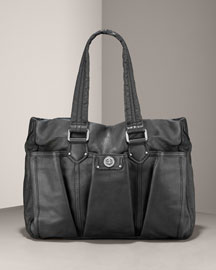 If you prefer the Marc Jacobs bag, you're kind of out of luck because it's sold out pretty much everywhere but eBay.