Australian Host Sophie Falkiner Pregnant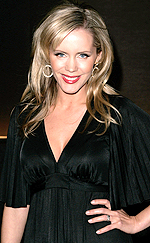 Australian host Sophie Falkiner has revealed that she and husband Tony Thomas are expecting their second child, due on February 9th. Even though a doctor confirmed the pregnancy, it was Sophie's daughter Isabella Grace, 3, who predicted that her mom was pregnant. "She came up to me and said, 'That big tummy has a baby in it,'" adding that "she's a very sensitive little soul."
Don't expect the couple to wait on a delivery surprise either — the Confidential host is anxious to know the sex of her baby admitting that "giving birth is surprise enough," and "to be completely honest, I just want to know so I can get organized and start looking at boys' clothes if I need to, or give the girls' clothes away."
Source: The Daily Telegraph; Photo by Don Arnold/WireImage.