method's Summer Cleaning Package Deal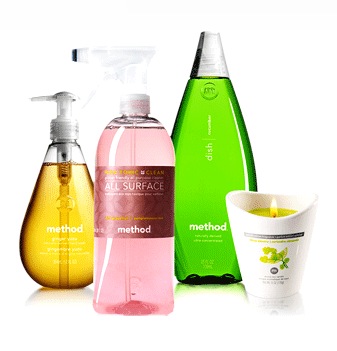 If method makes it, I'll buy it. Not only do their cleaning products come in delicious scents, have cute packaging, and are non-toxic, biodegradable and environmentally-friendly, they are less expensive than other brands. The only problem is that even though the line is carried in more and more stores, few carry the entire line (though Target always seems to have a larger selection that most). But did you know you can order the products online?
Right now they are offering a "summer cleaning" package deal for $16 that includes a 28 oz. pink grapefruit all surface cleaner (replace your clorox), 12 oz. ginger yuzu hand wash, 25 oz. cucumber dish soap, and a citrus cilantro soy candle. When you purchase $50 or more, they will take 50% off shipping. They also have a "detox your home kit" that includes 7 products for $28.
Here are some other products we use at our house:
Do yourself and your family a favor- dispose your old toxic cleaners and replace with non-toxic homemade ones or ones from method!
What are your favorite method products?