Me Giant: Fun Packaging, Funny Tees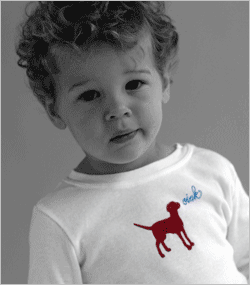 Any company that professes to read Shel Silverstein twice before bedtime and eat creamed carrots has me at hello. Me Giant is an inventive, humorous Seattle-based company making some of the cutest tees around, so it's no wonder it counts Grier Hammond Henchy, 2, among its many fans. We recently received samples from Me Giant's Chirp Daddy collection, which combine animals with animal sounds that quite frankly have nothing to do with one another. It's makes about as much sense as half the things that come out of our toddlers' mouths, which is precisely why I absolutely love these tees.
Whether it's a rooster that moos, a pig that meows or a bird that barks, Chirp Daddy offers a little bit of everything for everyone. Each tee comes in 100%, pre-shrunk cotton and most are available in either short or long-sleeve styles, in sizes ranging from 6- months to 4T. Oinking dogs aren't your thing? Check out Me Giant's Wee Bubba collection. Simple statements and names like 'bubba' and 'silly goose' are every bit as adorable as their Chirp Daddy counterparts. Know someone who recently had twins? Me Giant even has a small selection just for them, featuring shirts that say 'copy' and 'paste' and 'wonder twins.' As an added bonus, each Me Giant tee ($28) comes packaged in a classic metal lunchbox (see photo at right), which my own kids are still coming up with uses for (that have nothing to do with lunch!).