My Princess Closet: One-Stop Shopping for Your Girly-Girl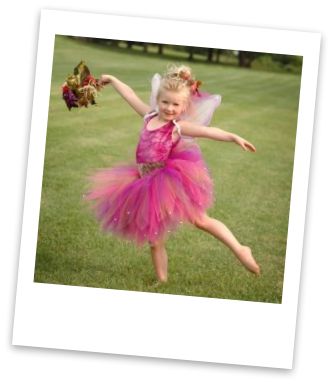 My Princess Closet is theplace to find girly-girly-girly gear for your little gal. You can choose fromspring and summer dresses and outfits, princess clothing andaccessories, tutus and tiaras, dress-up clothes and costumes, layette,footwear, swimwear, and outerwear. Now that my daughter is 6-months-old,I love dressing her up, even though I never was so into fashion when myson was little.
Every little girl needs at least one dress-up outfit — like this breathtaking Woodland Fairy Costume ($110; pictured at left; leotard not included). Another good option is the adorable Ladybug Costume (on sale for $75). You can even get some of these costumes custom-made.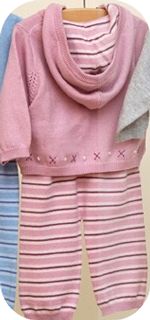 This is also the site to get your princess clothing and accessories — like the personalized princess shirt($58), that comes in sizes 12 m, 2T, 4T and 6. Use a name up to 10characters. You can also choose from fun items like the darling Princess Ballerina Onezie, (starts at $28; personalization is $10 extra) with attached layers of tulle and a wide ribbon bow. They also offer Kensington Baby's white crown hatwith Swarovski crystals ($20). Since tiaras won't fit my daughter for awhile, it's a good alternative, because it is sized to fit from 0-18months. I also loved the Princess Shoes by Jack and Lily ($26) and the princess and ballerina socks from Trumpette.
The Modern Luxury Cashmere Stripe Set in Rose (pictured right, $66) quickly became one of my favorite things to dress my baby daughter in this spring when we would go out on a cool day or at night. The cotton cashmere pants and hooded cardigan was just so luscious and soft. They also have pretty summer dresses, such as the 4 Tier Crochet Dress by Victoria Kids (on sale for $35.10). This light pink dress has detailed crocheted pink and fuchsia flowers lining the top, four full tiers and comes in sizes ranging from 3-6m to 4T. Infant sizes come with matching diaper cover. I also like the Lola dress by Pink Chicken NY (on sale for $39) — a cute animal print cotton dress with contrasting pink buttons on the back and available in sizes ranging from 12m to 4T. Infant sizes come with a matching diaper cover!
CBB Deal: Save 15% on your order when you use coupon code CBB15 at MyPrincessCloset.com PLUS they offer $5 shipping everyday. (Expires 12/31/08.)