Marisol Nichols on Pregnancy: You Couldn't Make This Stuff Up in a Sci-Fi Novel!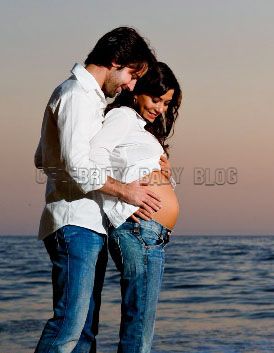 As Nadia Yassir, a member of CTU on the hit Fox TV show 24, actress Marisol Nichols spends her days (or rather, hours) fighting terrorism. She'll be spending her time differently soon, though, when she gives birth to her first baby, a girl, in early October. The Felon star, 36, recently chatted exclusively with the Celebrity Baby Blog about her impending motherhood and life with her husband, director Taron Lexton, and dished on everything from gadgets and gifts to books and breastfeeding.
Click "Continue Reading" for more on Marisol's pregnancy preparations!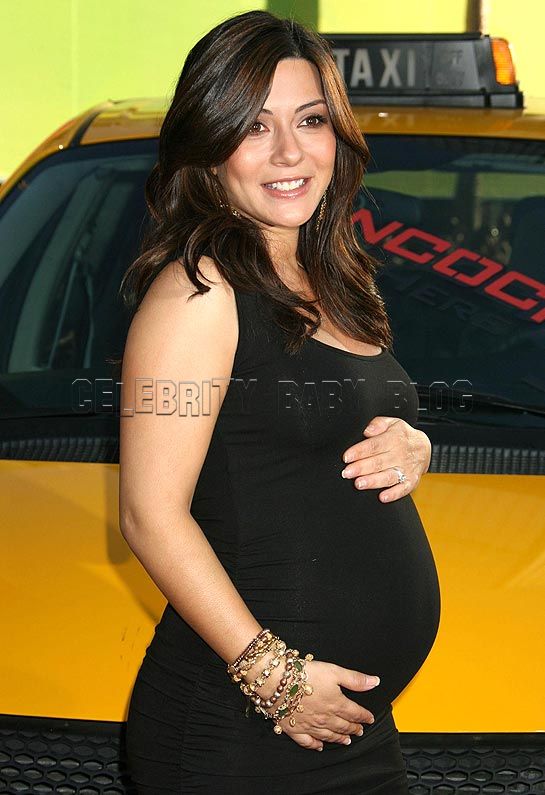 CBB: How are you feeling?
Marisol Nichols: I'm just so excited! I have so many friends rightnow that are pregnant, and the first one of us just gave birth abouttwo days ago, and I'm looking at this baby going, "Oh my God, that'sinside of me." That could be me! It's wild.
Did you have an easy first trimester?
I technically did. You watch TV or you watch the movies, and expect,"Oh ok, you get a little sick and then there you go." I only had oneday where I actually threw up, but the rest of the time I was justnauseous.
I had to eat every two or three hours, and then I would findas long as I kept food in my body, I'd be OK. Soup and Saltines were myfavorite things in the world. I would go to Whole Foods and get thosevegetable purée soups, like butternut squash, and heat them up andcarry them around in a coffee cup. As long as I kept soup in my body Iwas good.
And then of course the boobs start growing just before your belly comes…
It was literally like, "OK, hi porn star." And I was really alarmed, because it's like "You have nine months, wait! You don't have to make milk for a while." Fortunately they calmed down. I was so tiny, but I had these big boobs, and I hated it. Shirts didn't fit anymore — V-necks all of a sudden had a whole new meaning! But now the belly's all filled out so it's all proportionate.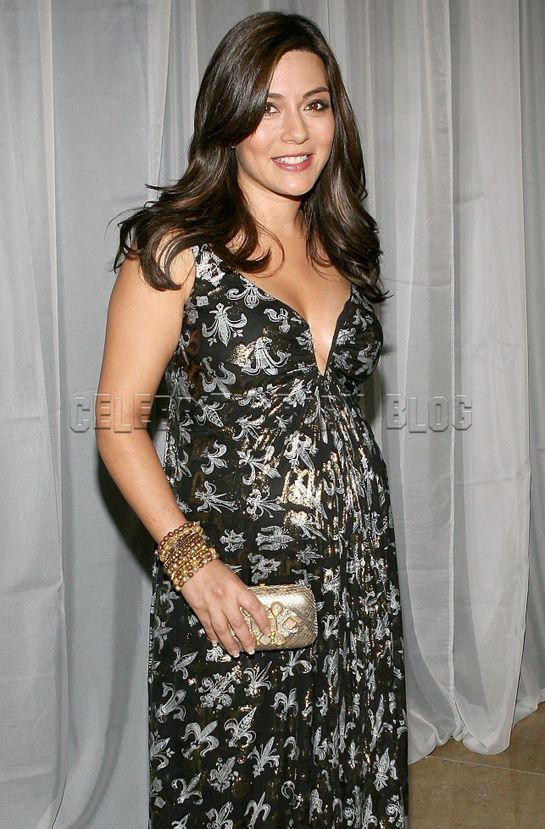 What is your personal maternity style?
Have you seen Isabella Oliver? They've got the greatest things! And there's this store in Los Angeles called Maternal America, and they're just selling the greatest maternity clothes. Like who knew that Theory would make maternity clothes? It was funny because once I started to finally go into maternity clothes, I was like, "This stuff is great!" When I was trying to wear my old stuff, I just looked big.
Where are you registering?
Well there's this great site called myregistry.com, and it allows you to register all over. So if I register for something from Babies"R"Us, something from Bel Bambini, and something from an online baby store, I can put the picture of the item on my registry, and when people go to look at it, they click on it, and it takes them to that store's website. So you're not limited to one particular store.
What are you registering for?
I'm trying to keep my nursery very green, and there's this great place in L.A. called Green Cradle. It's all organic, completely green, and I registered for my crib there, and my changing table. It's completely natural wood, no paint. Everything they sell in there is organic and dye-free.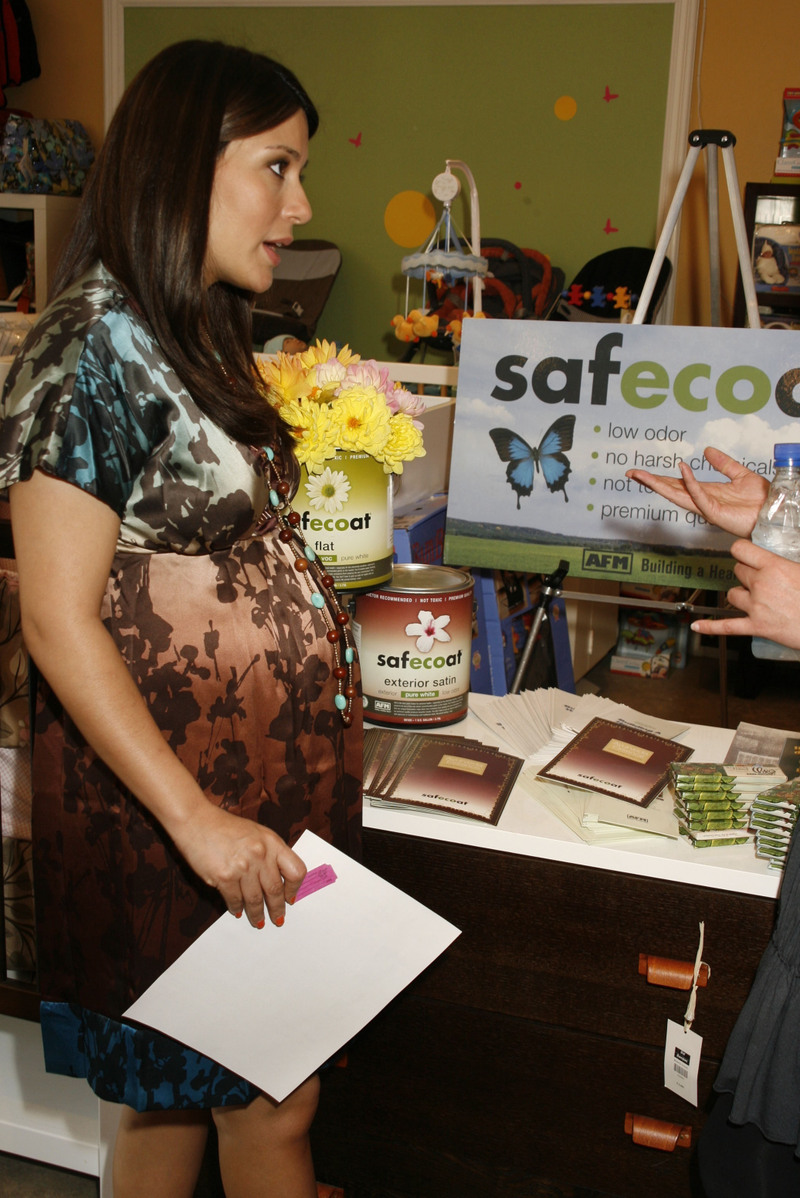 You were recently photographed at a Bel Bambini party; the theme of that event was "green," right?
It was! They had a company there that was selling safe paint, and I decided to paint my nursery with that brand. We just bought a house, and we're going to be painting pretty much every single room, so it was really good to find.
Bel Bambini has a great variety of items — their gliders are amazing. They carry a line called Cariboo, and they make these great bassinets that remind me of a grandma's bassinet, very old-fashioned with dark cherry wood and a nice canopy over the top. They also have a cute collection of all-organic clothing. I registered for custom-made sheets there; they have all these fabric swatches you can pick from, so that's what we chose to do.
What kind of baby gear are you excited about using?
I can't wait to use a BabyBjörn. I'm in love with the Orbit Baby stroller, and I also really like the Bugaboo. They're both great, great strollers. A little Moses basket, little shoes, and I got the Medela breast pump. I think I'm pretty prepared. Fisher-Price now is sponsoring my baby shower, on August 16th, which is so nice, because I had so many Fisher-Price items on my registry.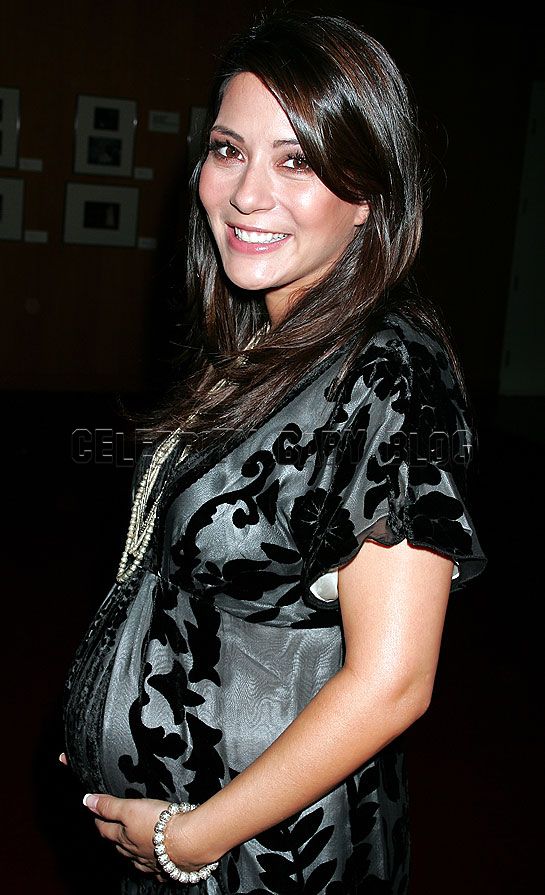 You mentioned the Medela breast pump. Are you excited about breastfeeding? Some people don't look forward to it…
I'm excited because I'm like, "Look this is what the body does, it's designed to do it." I went to a place called the Pump Station, and they taught me a lot about how the baby latches on correctly, and that takes a lot of the fear away. I've read horror stories about it hurting and killing and your nipples getting raw, but it's all fine, as long as you teach the baby from the beginning how to latch on.
I mean I say this now having never done this before, so we'll see, but I'm excited, because it's so amazing to me that not only has my body built another body inside of it, but then it's built all these things that are supposed to feed that body. It's the wildest thing. You couldn't make this stuff up in a sci-fi novel!
How about labor? Are you going to go for the drugs, or skip the drugs?
I figure, look, I'm going to try my best to do it without any drugs and do it naturally. But I'm no fool, and if I can't, I'll have the epidural standing by. I asked my OB about the drugs, and the drugs now compared to what they were doing even up to five years ago, they're just night and day. She reassured me these epidurals are very light, so if that what it takes, that's what it takes. But after
all this, do I really want to risk drugging my baby?
Who will be in the delivery room with you?
I'll have my husband, and one friend — she's one of those people that you love being around because they're always happy, always playing games. I had friends who said, "Oh yeah I had 20 people in the room," but I so can't do that. Everyone's welcome to come in the waiting room though; please, I'd be bummed if people weren't in the waiting room!
Are there any books you've been reading to prepare?
There's one that I love, it's called The Complete Book of Pregnancy and Childbirth, by Sheila Kitzinger. My husband's read it completely from cover-to-cover, he probably knows more than I do right now! A friend of mine has three girls, and she showed up at the house one day with all these books, two of which were Dr. Sears books, and said, "These I love. Don't read 'What to Expect When You're Expecting,' read these." Now I have one about babies and one about children. Thank God I have so many friends going through this at once!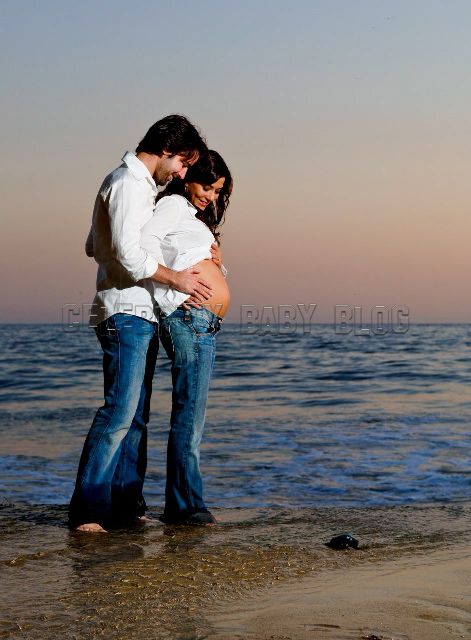 Photos by Getty Images; ER/Flynet; Maury Phillips/WireImage.com; Michael Doven; Amy Tierney/f8f11 Images.