Laila Ali Loving Her "Perfect" Pregnancy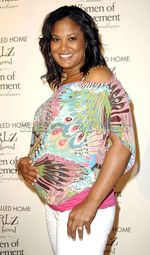 When she first learned she was pregnant, Laila Ali admits that, like so many women, she feared the worst. "I went into it thinking I was going to be miserable with morning sickness and nausea, and that I'd get huge," the 30-year-old boxer and American Gladiators co-host tells Parenting magazine. But after realizing that life is what you make it, Laila said she "changed her mindset" — and has enjoyed a "perfect" pregnancy ever since. She adds,
The whole thing has been great…I think a lot of it has to do with being positive. When you expect something to be bad, that's usually what ends up happening.
The baby boy — to be named Curtis Muhammad — she's expecting with husband Curtis Conway in early September will no doubt benefit from having a father who has navigated life with a newborn before. Curtis, already dad to 13-year-old twin sons Cameron and Kelton and 9-year-old daughter Leilani from a previous marriage, earns rave reviews from Laila, who says,
My husband's already an exceptional father with his three kids — he's probably going to take better care of the baby than me!
Click 'continue reading' to hear Laila's thoughts on her pregnant body and unsolicited belly rubs from strangers!
Laila says she was a realist when it came to accepting the physical changes that accompany any pregnancy. "Because I love to eat and I'm already a big girl — I'm 5'10"" and 175 lbs when I'm not pregnant — I had to accept that I'd be a big pregnant woman," she says. And while she's tried to "embrace" her pregnant form, there are also times she admits that a glance in the mirror leaves her thinking "Oh my God, look at my butt." As quickly as the thought occurs, however, Laila says she pushes it away.
I get over it. That's a part of life, that's what women go through.
Another thing pregnant women go through are unsolicited — and at times unwanted — belly rubs, often from complete strangers. Laila, who has not been immune from the phenomenon, shares,
Do I look like someone who wants her belly rubbed? There have been some little people who just won't take a hint and manage to get by me — they come at me with their hands already out!
Source: Parenting; Photo by Apega/ABACAUSA.com.