Avril Lavigne Says She's "So Not Ready" for Motherhood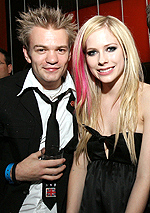 Avril Lavigne says the gossip mill can cool its jets when it comes to persistent rumors that she's expecting a baby with husband Deryck Whibley. When asked by OK! if she plans to follow in the footsteps of fellow songstresses Christina Aguilera and Ashlee Simpson-Wentz by having a baby in her 20s, Avril replied "Oh God! I don't want to have kids for like 10 years." She adds,
I still have a lot to do. I don't even know if I could handle a dog right now. I'm so not ready. Someday I'll be a mom, but not until I'm in my 30s.
Avril, 23, and Deryck, 28, were married in 2006.
Source: OK!; Photo by Jesse Grant/WireImage.