Tori Spelling: Liam is "Adjusting" to His Sister Stella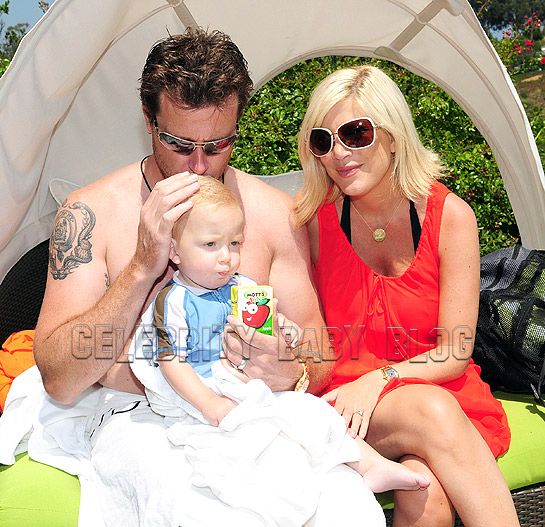 Actress Tori Spelling is adjusting to motherhood all over again after welcoming daughter Stella Doreen seven weeks ago, but she isn't the only one in the family learning to cope — son Liam Aaron, 16 months, is as well. In an appearance on The View, Tori shared that Liam is "adjusting" and that it "was hard for him at first," adding that "he was fine with her in the hospital and when she came home and he saw her, it was like, 'Why is she staying here?'" But no worries, as the 35-year-old said that he is "gradually starting to like her."
One thing that has helped is that Liam is "fascinated with smells," and Tori and husband Dean McDermott, 41, would help their son to get closer to his baby sister "by saying 'Oh look, you can smell Stella's toes,'" saying that he "now smells her toes and goes 'Phew.'" And even though her kids are close together in age, Tori says that things are going well and "Stella's almost sleeping through the night."
Now that Liam is getting older, Tori knows that preschool and play dates are what is next for her son, saying, "I was freaking out when I found out about the preschool. Liam was barely off my boob and I was suppose to get him into preschool." Between preschool and play dates, toddlers have just as busy schedules as some adults, so the actress wanted to help out other moms by partnering with Motts For Tots and creating a play date planner.
I came up with a play date planner. I love to plan things so I thought, 'Why not for toddlers?'
Source: The View; Photo by Clark Samuels/StarTraks.