Shane Richie and Wife Welcome Lolita Belle Shelley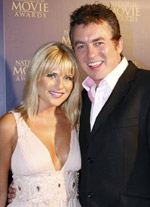 Despite an early ultrasound that indicated a boy, British actor Shane Richie and his wife Christie, 28, are "over the moon" after welcoming daughter Lolita Belle Shelley Roche on July 27th. Born at 8:28 p.m., Lolita weighed in at 5 lbs, 12 oz. She joins big brother Mackenzie Blue, 2, at home.
The pregnancy was announced in March in the pages of Hello! Magazine, when Shane, 44, said that Christie wanted a daughter so desperately she "worked out that we had to try at exactly 9:18 pm when Mars was lined up with Jupiter, [her] body clock was at the right time and the room was at the right temperature." Although the early ultrasound left the couple believing that their efforts to conceive a girl "didn't work" — apparently they did!
Source: The Sun; Photo by Gabor Scott /WENN.
Thanks to CBB reader Louise.
Do you know someone who had an ultrasound that turned out to be wrong?