Ugly Betty Co-Stars Happy for Mom-to-Be Rebecca Romijn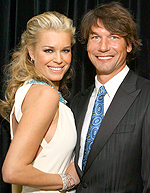 Now that the news of Rebecca Romijn's pregnancy with fraternal twin girls is out, her Ugly Betty co-stars are singing the praises of the 35-year-old actress and her husband, actor Jerry O'Connell, 34. Actress Becki Newton, who admitted the cast knew about the pregnancy before the couple's announcement to the press, shared, "I love the idea of a couple like that having babies," adding that she believes the twins "will be stand-up comedians. Jerry and Rebecca laugh so much, and they have so much fun together."
Fellow co-star Ana Ortiz said she knows Rebecca "will be such a great mom. She has that Mama-Bear thing, always watching out for us." She joked "she [Rebecca] is a kid herself, and so is Jerry. Those kids are the luckiest people. I can't wait to meet them!"
Cast member Vanessa Williams revealed she's started shopping for the couple, and is keeping the environment in mind with her baby-gift choices. "I've already gotten them organic cotton baby clothes from Green Babies to start them off right," she said, adding "Rebecca is glowing."
Mark Indelicato, one of the youngest members of the Ugly Betty ensemble, commented on the couple's expected parenting style. "They're not going to be the uptight kind of parents, 'You can't dothis, you can't do that.' They love to have fun, but they still have boundaries." And should Rebecca and Jerry need a sitter, they know who to call. "I only charge five bucks an hour," he cracked.
The cutest reaction of all, though, came from Ugly Betty star America Ferrera. Questioned about the news at the Sisterhood of the Traveling Pants 2 premiere last night, she gushed, "I'm so happy for them."
I just am waiting to see how tall those girls are going to be. I think they're going to be born my height!
Rebecca and Jerry, who were married on July 14, 2007, expect their daughters in early 2009. Other Ugly Betty babies-on-the-way include Eric Mabius and wife Ivy's second son, due this fall, and Christopher Gorham and wife Anes' third child (and first daughter!), due in January.
Source: US Magazine, People.com; Photo by John Shearer/WireImage.