Cricket Captain Ricky Ponting Welcomes Emmy Charlotte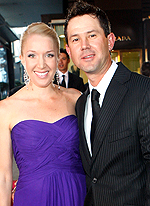 An "absolutely thrilled" Ricky Ponting, the 33-year-old captain of the Australian cricket team, has welcomed his first child with wife Rianna. Their daughter, Emmy Charlotte, was born Saturday morning in Sydney. In a statement, Ricky said both mom and baby were doing well and that Emmy is "the most gorgeous little girl."
Ricky and Rianna — who were married in 2002 — announced the pregnancy in February.
Source: Herald Sun; Photo by Snapper Media / Splash News.
Thanks to CBB readers Freya and Kate.