It's a Girl for Rays' Cliff Floyd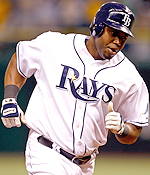 Cliff Floyd of the Tampa Bay Rays and his wife Maryanne welcomed daughter Layla Floyd on Saturday, July 26th at 12:47 pm in Edgewater, FL. She weighed 6 lbs, 10 oz. Layla is the third child for the couple; they are also parents to Bria Shae, 4, and Tobias Clifford, 2. The 35-year-old designated hitter was able to fly home and be there for the birth.
Source: Tampa Bay Rays; Photo by J. Meric/Getty Images.