Carla Bruni-Sarkozy Won't "Tempt the Devil" To Have Another Baby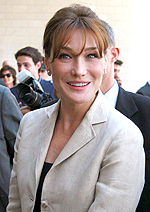 Carla Bruni-Sarkozy has made no secret of her desire to have a baby with husband Nicolas Sarkozy, the President of France, but she says she won't pursue fertility treatments to make that dream a reality. The 40-year-old songstress tells Vanity Fair in its September cover story "if [a baby] comes, I'd be the happiest person in the world, but if it doesn't come, I'm not going to tempt the Devil." She adds,
I'd love to have children with Nicolas. I hope to, if I am young enough. It would be a dream…If life doesn't give me another child, well, it has given me so much already.
Carla is already mom to Aurélien Enthoven, her 7-year-old son from a previous relationship; Nicolas, 52, has three children and two step-children from previous marriages.
Source: Vanity Fair; Photo by ELIOT PRESS/Bauer-Griffin.