Max Daniel Baby Debuts Camo and Satin Dots Designs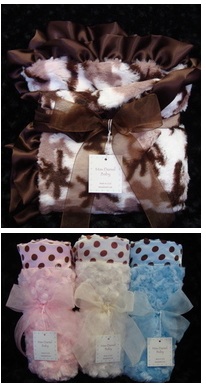 Max Daniel Baby, known for its luxurious and chic baby blankets andadult throws is introducing several news designs this August: Camo, a2008 winner of Disney's prestigious iParenting Media Award, and SatinDots. The popular blankets are regularly ordered as guests by CBS, ABC,and NBC television networks and loved by celebrities including JenniferLopez, Jessica Alba, Sean Combs, Dennis Quaid and JenniferGarner. They also recently introduced its Cheeah and Snow Leopard faux animal prints in super snuggly adultsize throws measuring 72 x 60 inches.
The Max Daniel Baby collection, made in the US, is carried atNordstrom, speciality boutiques across the country and internationally,and online at Tiny Tot Boutique, a specialty luxury gift boutique.
CBB Deal: Save 15% on your order at www.tinytotboutique.com when you use coupon code tinytot15.