Maria Bello "Can't Imagine" Giving Birth in a Hospital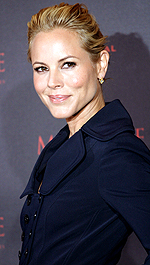 Actress Maria Bello "can't imagine giving birth in a sterile environment like a hospital," and that's one reason that she labored with son Jackson Blue, 7, in her own bed. The 41-year-old shared that during the "22 hours of labor," she "had a midwife and a thunderstorm with nothing more than an aspirin." Despite "times where I wanted to say, 'Get the ambulance — I'm done,'" Maria told herself she could get through it.
But then I thought, "I can do anything for 24 hours," and it was almost exactly 24 hours.
After becoming a parent to Jackson, Maria admitted that she "never felt so much love and fear at the same time," adding that she "just wanted to keep him from every lesson he needed to learn" when he was little. As Jackson has grown, the actress knows that she "need[s] to trust God to take care of him." Maria, who admits "it's second nature for me to play a mom" in the film The Mummy: Tomb of the Dragon Emperor, also firmly believes that "the greatest thing we need to teach our kids is to be our most authentic selves."
Jackson's dad is Maria's ex, TV executive Dan McDermott.
Source: Chicago Sun Times; Photo by Anita Bugge/WireImage.