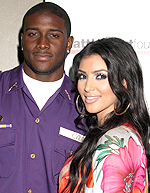 Reality star Kim Kardashian and her family will return for another season of Keeping Up with the Kardashians, but the 27-year-old has more important issues on her mind — children. Kim and boyfriend, NFL star Reggie Bush, 23, have been discussing their future together and the reality star admitted "having six kids is amazing; it's exactly what I want," adding, "It's what I grew up with, so I can't imagine anything less." Even though Kim wants six kids, do not expect her to adopt.
I don't want to adopt — that's my personal choice. If I am blessed to have kids of my own, then I want to do that.
Source: Fox News; Photo by ER/Flynet.