Melissa Joan Hart's Getting In Shape Plan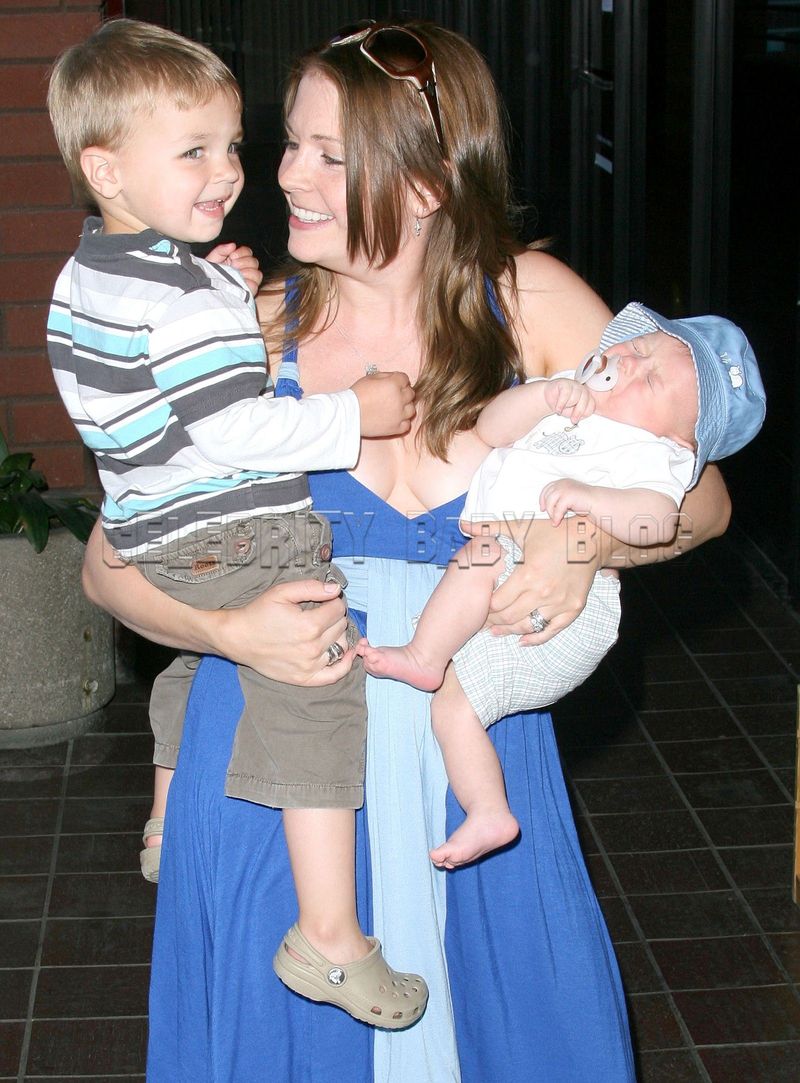 As Melissa Joan Hart welcomed her second son Braydon 'Brady' Hart with her husband, Course of Nature rocker Mark Wilkerson, she also gladly welcomed back into her life another huge commitment: breastfeeding. Now four months later, the mom of two boys — including older brother Mason Walter, 2 ½ — is making it her priority to shed the pregnancy weight and gain muscle without compromising her milk supply. On track to getting back in shape, Melissa goes "three days a week" to Pulse Fitness Studio — which for now, balances out "being a really good mom, breastfeeding my child and making sure he's as healthy as can be," without forgetting the other goal of "losing the weight for me and my career and my husband!"
During her pregnancy with Brady, the 32-year-old actress reveals that she "probably put on about 35 pounds…maybe by the end it was close to 40," but since then has come a long way with her weight loss results, saying she is "about five [pounds] off from where I started."
Click below to read about Melissa hating pregnancy, her sadness over baby growing up, and her plan for more kids!
While Melissa has enjoyed finding a healthy balance between feeling good while breastfeeding Brady, she didn't feel so good during her pregnancy! Admitting she "just hated" being pregnant, Melissa shares she had always thought she would "feel so feminine and beautiful and wonderful" during the nine month stretch, especially after seeing her own mom go through pregnancy seven times and then "seven years of breastfeeding too." Dreaming she could "eat whatever I wanted to and I'd enjoy it," Melissa, being the oldest child, was in awe of her mother, revealing "my whole life I said I can't wait to be pregnant." Unfortunately, in Melissa's case, the love of being pregnant was not passed down from mother to daughter with Melissa saying, "it is so uncomfortable and you just feel so out of sorts." Luckily for Melissa — who does "love being a mom" — did "enjoy this pregnancy more because I didn't freak out as much."
Being a mother the second time around has the mom "sad for the phases as they leave," as she knows what's coming — her baby is growing up! With Mason, Melissa said she is always "looking forward to what comes next" and experiencing new territory — which for now is potty training! While Melissa is eager for her older son to get out of diapers, she would prefer Brady stay in his, as she shares Brady "outgrew his newborn diapers, and now he's about to outgrow his number ones." Soaking up the baby-time she has left with Brady, Melissa is "just so enjoying his little moments."
With a new baby brother, an actress mom, and a singer for a dad, Melissa says Mason — who she lovingly refers to as her "monkey" — is a "complete crazy man!" While Brady, "the little love bug" — is "a little smiley happy angel" — Mason is a typical energetic toddler who is "so into jumping and running around in circles." According to Melissa, her eldest son is a "little OCD right now" as he has his poolside routine that includes going "all the way around the pool, get out, run over kiss somebody, and put his head under the waterfall," but blames it on their lives being "so chaotic" where "no day is the same."
While Melissa is looking forward to "two more [babies] in my thirties," she says she is in no rush to have another! Saying, "Every time I do an interview…it always comes off like I'm desperate to have another one right away, but I'm not!" Melissa, for now, is "totally happy with my two little monkeys." However, down the road, she does share that she'd like "to have two little girls, because I'd like to have a girl and I'd like for her to have a sister."
Source: OK! Magazine; Photo by Andy Fossum/Startraksphoto.com.