Maria Bello Says Son is Fearless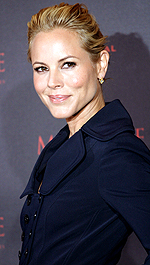 When Maria Bello says her son "will do anything," she's not kidding! While shooting The Mummy: Tomb of the Dragon Emperor in China, she says Jackson Blue, 7 — who, in between takes, could often be found playing soccer with 15 stunt men dressed as mummies — was even willing to partake in the local cuisine.
My son and I and my dad went to the market in Beijing, the night market, and ate scorpions on a stick. There's pictures of us eating scorpions…It was pretty something.
Being a real life mom helped Maria, 41, play a mom onscreen, she reveals. "I was saying to one of my friends the other day who was having a problem with one of her kids, 'We all want to do it perfectly as mothers,'" Maria says, "And we just don't." She adds,
I think, no matter how you do it, our kids are all going to be in therapy at 18-years-old going like, 'My mom did this to me.'
Jackson's dad is Maria's ex, TV executive Dan McDermott.
Source: MoviesOnline.ca; Photo by Anita Bugge/WireImage.