Comedian Joe Rogan Welcomes Daughter, Says Babies Are Like Aliens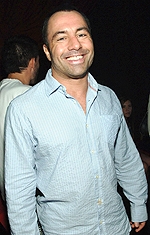 In better-late-than-never news, comedian Joe Rogan is a dad. The former Fear Factor host and his longtime girlfriend welcomed a daughter in May, an experience Joe considers "the most rewarding thing ever," if not a little bit strange because parenthood is "not what everyone says it is."
Babies, especially newborn babies, are so odd because they can't talk or communicate –- they're almost like aliens, like little aliens and you have to teach them to be people.
The 40-year-old is enjoying being a father and considers it to be "fascinating" even though "it's the worst feeling" when his little girl cries, "because you have to figure out what she wants." While Joe may not know what his daughter needs all the time, he does know he would do anything for her.
It's crazy how this little person that you just met, you'd do anything for.
Source: Orange County Register; Photo by Denise Truscello/WireImage.